Put a halt to fraud, waste and abuse with our Optum® program integrity solution — a comprehensive suite of analytics tools designed specifically for Medicaid. Our program integrity solution helps you prevent, detect, investigate and recover inappropriate payments throughout the claims cycle — from prepay to postpay. Our proactive approach has helped 22 states save hundreds of millions of dollars.

By contracting your program integrity to Optum, you get:
Seamless integration with your MMIS claims flow. Our solution is fast and efficient, scoring and prioritizing all incoming claims without jeopardizing federal prompt-payment deadlines.
Rapid, accurate risk scoring using advanced predictive analytics. Our detection engine scores claims using a wide array of advanced analytics, such as models, rules and

social network/linkage analytics

. We customize our rules engine to your state policies and modify scoring as new rules, patterns and results emerge, for continuously improved detection and minimized false positives.
Business intelligence that expedites investigations. With a reports library, scored claims results and a variety of reference data, our business intelligence component facilitates highly detailed claims investigations. Our expert analysts can support or conduct your investigations for you.
Comprehensive results reporting. Our reporting system provides complete transparency as to how savings are being realized and return on investment. Knowing how much you're recovering at any given time helps ensure compliance with federal reporting requirements.
Enhanced provider relations. Uncovering fraud, waste and abuse early in the process offers the opportunity to correct and educate providers on proper claims submission, helping you strengthen relationships and maintain your Medicaid network.
Performance improvement plan. We provide full

program assessments and strategic guidance

to help you keep pace with the ever-changing face of fraud. We help you prioritize improvements to meet state objectives and regulations.
Savings and recoveries that go toward care delivery, not fraud. Cutting down on fraud, waste and abuse helps save you money and improve overall operations. Critical Medicaid dollars can go where they're supposed to — delivering quality care to needy residents.
Optum — 30 years of delivering successful Medicaid solutions
Optum is a national leader in providing program integrity solutions to Medicaid agencies. We have worked with more than 30 government programs and with every major Medicaid fiscal agent service provider. Our proactive approach has helped 22 states save hundreds of millions of dollars. Contact us today to learn what we can do for you.


Program integrity handbook offers best practices
Use our program integrity handbook to help reduce Medicaid fraud, waste and abuse.

Building program integrity takes expertise
IDC MarketScape names Optum a leader in the IDC MarketScape on U.S. Healthcare Payer Fraud, Waste and Abuse Services.
Read excerpt

Iowa saves $129 million in four years
Partnering with OptumTM, Iowa saved $129 million — money it could better spend on care delivery.
Read more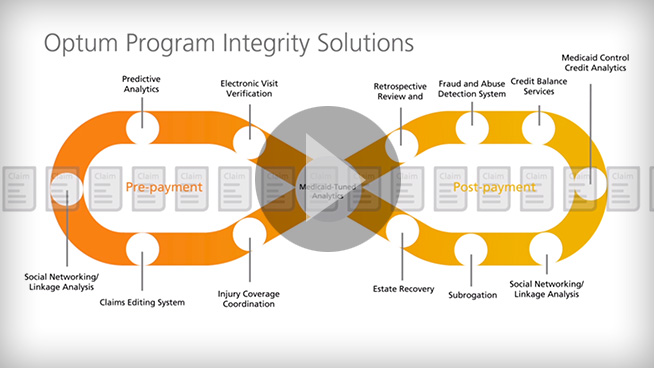 Avoid improper claims and increase recoveries
See how our comprehensive solution catches suspicious claims throughout the payment cycle.
Watch video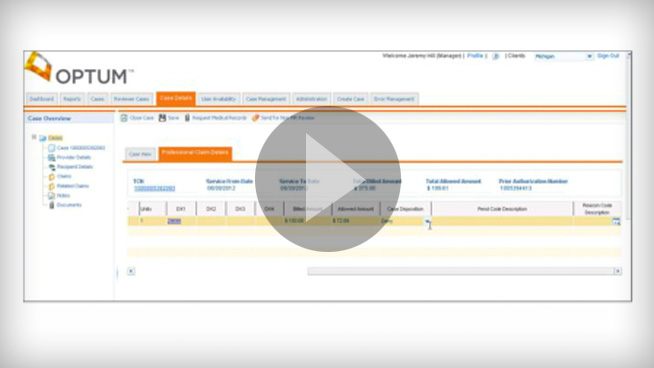 Watch our program integrity tools in action
See how predictive analytics can help you spot fraud, waste and abuse.
Watch video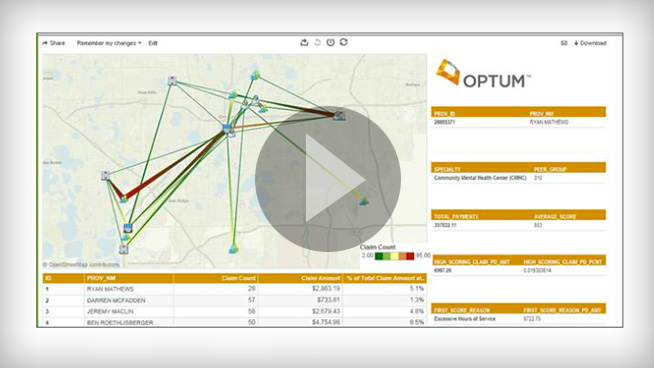 Track fraud schemes by uncovering hidden relationships.
Our visual display of social network linkages shows who may be party to a Medicaid scam.
Watch video
We're ready to put our solutions to work for you. Let's start the conversation.
Contact Us
1-800-765-6092